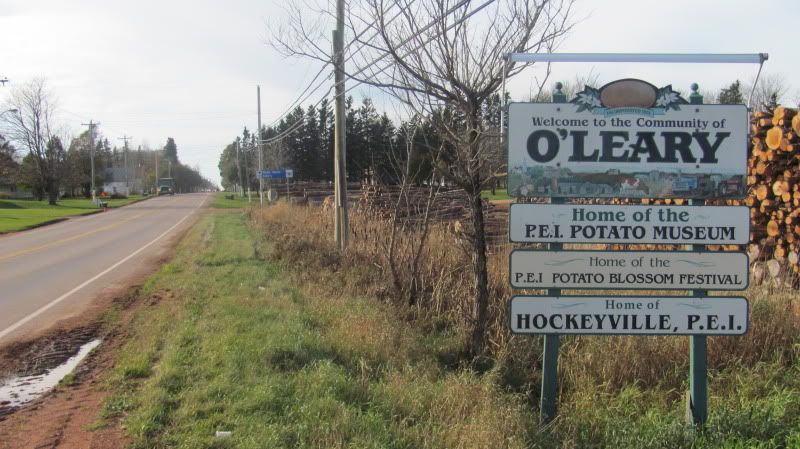 O'Leary is a small community in Western PEI that takes hockey very seriously. Hockey is among the most treasured winter activities of rural Island life, and has had a part in shaping the character of O'Leary and its winter competitors. One of the runners-up of Kraft Hockeyville 2006, O'Leary has had a long and illustrious past as a leader in hockey and other ice sports. Our project explores this heritage in sport: we will profile the players and teams throughout the years, the facilities built to support athletics, and the people who captained these programs and maintain O'Leary as a hockey leader in PEI.
A focus of this project is the regional connections that have developed through hockey over the decades. O'Leary is merely one community with a solid hockey program. There are many communities within the West Prince region with a passion for the sport, and they all produce their respective fair share of competent athletes. These communities have helped to raise great hockey players who go on to compete in higher leagues, and return home in later years with hardened skills. When these communities that care so deeply for the "good ol' hockey game" compete, the results can be unpredictable; but most fans predict "good hockey". The age old rivalries that still influence fans and players in the area will be explored in the course of our research and interviews. We will also look at the very competitive community hockey league which encompassed O'Leary, Glenwood, Knutsford, Bloomfield, West Point and other areas.
The experience of playing hockey in O'Leary has been influenced greatly by the facilities maintained by an independant board of directors. The rink has gone from its original outdoor "pond hockey" roots to a professionally maintained, NHL regulation ice surface in a modern structure. This evolution into a modern ice rink progressed over eight decades, with two indoor rinks that predate the O'Leary Community Sport Centre. These aged structures have seen their fair share of seasons and playoffs. They were storied buildings that saw literally thousands of people come through the doors to watch teams clash on ice. These buildings will be explored, with an attention to how they helped to shape the experiences of the fans. The facilities have also had their share of misfortunes over the years with fire, financial strains, and other factors that have threatened the rink's future.
Hockey has highlighted some of the most passionate moments in O'Leary's past, it's present and likely its future. Community members have taken great strides to ensure the rink doors stay open for young and old alike.
Below you will see links to all of the pages we have created in regards to our project. You can also see our Digital Collection of all the photos and other media we have gathered.
With a rich history in O'leary, one can easily see why we chose Hockey for our project. We will look in depth at just what it is that made O'leary, PEI Hockeyville.