There have been a few great helping hands on the duration of this project, but there is no way possible to thank each one of them. It is safe though to start off with one of the community members who have been an immense help; Billy MacKendrick. Billy has been a steady presence in the office and an immense help since day one of this project. He even took part in the interviews when the team was constructed. We immediately bonded over hockey, and our love of the sport.
Billy had provided the team with hockey artefacts and memorabilia from various generations in O'Leary. He has so many stories to tell, and if you ever have the chance to see his trophy case, take the opportunity to do so.
Very few people in the community of O'Leary can spin as many yarns and knit in as many tales about hockey. He was able to name people in photo's whom one would never have been able to identify without him, and if he was not able to, he knew who would! That may sound trivial, but it was a huge help. It is truly amazing how Billy can recall so many names, so many facts, not just about the community, but also about anything to do with hockey. The man is a walking encyclopaedia when it comes to the great Canadian pastime.
Billy would constantly make time to stop by and check on the progress of this project, and ask if he could be of any assistance. If he could help out with organizing the photos or dates or scores, anything at all. He was constantly chipping in. One could say this project could not have been completed if it were not for his assistance, and his encouragement. Billy always made sure the project was on the correct track for what the community wanted. He has an outstanding reputation in the community, and there is no doubt how he earned it or if he deserves it. Billy is a true stand up gentleman. The classic personification of an all around good guy. Not only that, he is also the biggest hockey fan you could ever met. The man lives, eats and breathes hockey. It's a pretty safe bet he stocked up on the Olympic Hockey edition of Frosted Flakes just so he could eat a hockey themed food for every meal. The man is the embodiment of the Hockey Spirit and there is no need to be afraid to say that.
In fact, Billy even took the time to write a hockey limerick if you will. A short story maybe? Maybe a poem? Be what it may, it is a fun read. It has been scanned for your reading pleasure.
On a side note, if I may break the third wall for a moment, he was hesitant to let me copy it and publish it for you, but after much convincing and a final closing statement of "Billy; what's the point of writing something if you won't let people read it?" He stopped in his attempt of escaping my office, thought about it and shrugged. "Fine I guess. It'll be weird though."
All in all, it's a laugh out loud story, one any hockey fan will enjoy.
And so, to no further ado, here it is!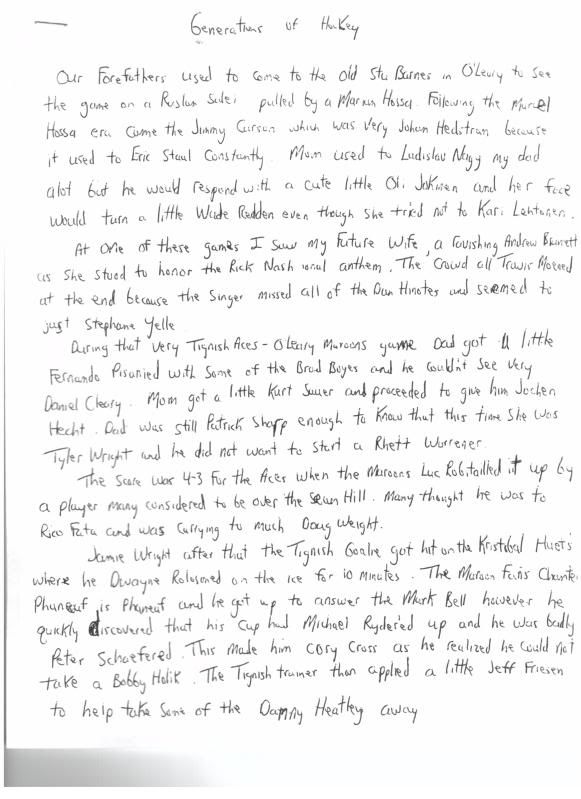 If you are looking for an easier to read version, as the scan is a little blurry it has been typed out below.
Generations of Hockey by Billy MacKendrick
Our forefathers used to come to the old Stu Barnes in O'leary to see the game on a Ruslan Salei pulled by a Marian Hossa. Following the Marcel Hossa era came the Jimmy Carson which was very Johan Hedstrom because it used to Eric Staal constantly. Mom used to Ladislav Nagy my dad alot but he would respond with a cute little Oli Jokinen and her face would turn a little Wade Redden even though she tried not to Kari Lehtonen.
At one of these games I saw my Future Wife, a ravishing Andrew Brunnet as she stood to honor the Rick Nash onal anthem. The crowd all Travis Moened at the end, because the singer missed all of the Dan Hinotes and seemed to just Stephane Yelle.
During that very Tignish Aces - O'leary Maroons game dad got a little Fernando Pisanied with some of the Brad Boyes and he could'nt see very Daniel Cleary. Mom got a little Kurt Sauer and proceeded to give him Jochen Hecht. Dad was still Patrick Sharp enough to know that this time she was Tyler Wright and he did not want to start a Rhett Warrener.
The score was 4-3 for the Aces when the Maroons' Luc Robitailled it up by a player many considered to be over the Sean Hill. Many thought he was to Rica Fata and was carrying too much Doug Weight.
Jamie Wright after that the Tignish Goalie got hit on the Kristobal Huets where he Dwayne Rolosoned on the ice for 10 minutes. The Maroons fans chanted Phaneuf is Phaneuf and he got up to answer the Mark Bell. However he quickly discovered that his cup had Michael Ryder'ed up and he was badly Peter Schaefered. This made him Cory Cross as he realized he could not take a Bobby Holik. The Tignish trainer than applied a little Jeff Friesen to help take some of the Dany Heatley away.
The game finally resumed and Tignish was playing as they say Brian Savage when suddenly a Maroon player Peter Sejnaed an opening passing it to a line mate who Darcy Tuckered it into the net. It was a Bret Hull of a game.
After a couple of Kevin Weekes I finally Kyle Calder. I proceeded to form a Peter Bondra with my Andrew Brunette and we saw each other Trevor Daley. I used to ask her for the last Wes Walz and we would go and Richard Park before I would Ramzi Abid her goodnight.
The tradition continues as we now go to the games with our Scott Younger in our new Ossi Vaananen where we Joe Mullen everything over in the Rink of Dreams.
One has to give the man credit; that is quite the creative piece of work, and truly tells of his love of the sport.
In closing, thank you Billy. You were an amazing guide through this journey. We appreciate your wisdom, your generosity and your wit. You sir, are an aspiration for any hockey fan. The fact that you are such a pillar in the community of O'Leary speaks volumes. Your involvement in the growth of hockey in O'Leary does not go unnoticed. This community owes you a great debt of thanks. This project could not have been possible were it not for your dedication and guidance, your wisdom, and your love of all things hockey and O'Leary. Thank you.